News! News!
*edited to add* Just got word today that they will ship the samples out tomorrow via EMS.  It should be about 3-5 days before they arrive so I'll have photos and official pre-order starting next week!  thanks everyone!! :D
Prototype photos! :D  I was going to save it as a surprise, but since the photos show Epsilon on the body, the cat's out of the bag!  You will be able to choose the color, but also the which head you want!  Gamma and Epsilon will both be available.  You'll be able to order both heads if you like as well. :3
I will keep early bird orders open for another week before I close them.  Remember, early bird orders get a free face-up if they choose! You can find more info about early bird ordering here!
I will also be offering line painting, adding lines to the face-up, and doing custom paint jobs on a limited basis.  I can only do a few of those a month, so I'll take them on a case-by-case basis.  More info and pricing when the samples get here and I can get some pictures and examples!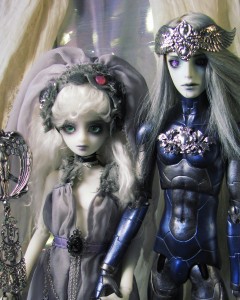 In other news, Machina and Lagoon are in Dolls Magazine's December issue!
You can check out the issue here! Pg 29 and  33!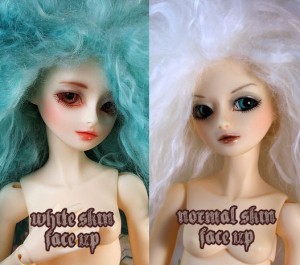 The Lagoons are also now in stock!
When you order the doll will ship in a matter of days, no waiting!
There are two face-ups available(shown above), or you can buy her blank.
Posted: October 31st, 2011 under Uncategorized.

Comments
Write a comment